---
DIY, pivo a ekologie: silná kombinace
16. 5. 2008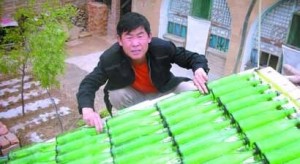 Ekologické chování nezná mezí. O tom, že ekologické počínání lze spojit, také s pořádnou pitkou lahvového piva svědčí následující zpráva ze serveru www.ecogeek.org.
Chlapík z Číny si vyrobil "solární panel" pro ohřev vody ze 66 lahváčů. Inu, DIY kultura, pivo a ekologický přístup je silná kombinace…
http://www.ecogeek.org/content/view/714/
Once while traveling through the southern US I saw a DIY solar hot water heater made from an old Chevy, that was up on blocks, painted black and the proud owner had run 200 feet of garden hose through the interior. It provided enough heat for his family to shower he said. From the "Weird Asia News" blog we get the story of a man who made his family a solar hot water heater from 66 recycled beer bottles. He should have called, I could have helped him empty the bottles.
Weird Asia News: A Chinese farmer has made his own solar-powered water heater out of beer bottles and hose pipes. "I invented this for my mother. I wanted her to shower comfortably," says Ma Yanjun, of Qiqiao village, Shaanxi province. Ma's invention features 66 beer bottles attached to a board. The bottles are connected to each other so that water flows through them. Sunlight heats the water as is passes slowly through the bottles before flowing into the bathroom as hot water, reports China Economy Network. Ma says it provides enough hot water for all three members of his family to have a shower every day. And more than 10 families in the village have already followed suit and installed their own versions of Ma's invention.
PO ČTENÍ SE PROCVIČ A UDĚLEJ ALESPOŇ JEDEN KLIK

Komentáře
Přehled komentářů